Bathrooms Coventry Reviews

Read our bathrooms Coventry reviews these have all been received from projects we have completed. Most of our work is obtained on recommendations by family and friends.
Ian and Lynn
A big thank you to Nick, Scott and Callum. We are absolutely delighted with our new bathroom. The service this company provides is beyond excellent. We made an appointment for them to come and discuss our project and as soon as we met Nick and Scott we knew we were in safe hands. The project turned out to be a whole bathroom renovation rather than just changing one or two things in our old bathroom but we are so glad we agreed to their suggestions. Nick then came to help us choose what we wanted for our bathroom and booked a date. The week decided was the week when we knew we would be on holiday but we had no hesitation in agreeing for them to do the work whilst we were away.
This is a company which is dedicated to providing a service to its customers over and above what is required. 
Ann – Hinckley
The guys worked really hard to create my fantastic bathroom. They were friendly, helpful and polite. I love my new bathroom and would recommend them without reservation.
Nicola
Amazing!! I would highly recommend these guys to anyone. We totally love our new bathrooms
Mr Doughty – Broughton Astley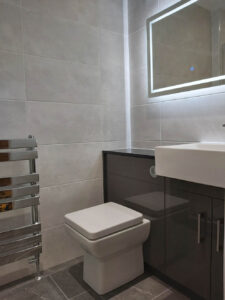 If you want your bathroom fitted with the upmost care then you don't need to look further than these guys. They go above and beyond to get the job done. I wouldn't use anyone else to fit our bathrooms.
Mrs Emery – Hinckley
I do not know how to put in words how happy I am with my bathroom. These men work really hard and did a great job. They were kind and considerate to my needs and feelings and looked after me.
I would recommend them 100% to anybody. I am over the moon with my bathroom.
Vicki and Neil – Ryton on Dunsmore
Nick, Scott & Calum – Just wanted to say a massive thank you for everything you've done and for making me laugh (a lot) in the process. What I thought was going to be a horrendous couple of weeks, ended up not being too bad at all.
Andy & Ang – Lutterworth
Nick, Scott and Callum were excellent right from when we first met them to discuss the work, right through to the completed job.
The price and quality of their work is superb and we could not be happier.
We had two bathrooms completely refitted from the flooring to the ceiling.  The price they quoted was the price they charged despite additional jobs that needed doing – collapsing ceiling to be repaired!!!  We had no issues at all with letting them have free access to the house when we were at work.  They ensured that they cleaned up at the end of each day so we never came home to a mess.
I found that I ended up chatting with them each evening which must have held them up but listening to some of the stories was hilarious.  The three of them never complained – at least not to me anyway – and nothing was too much trouble.
I cannot recommend them highly enough and when we have the kitchen renovated, we won't be asking anyone else to quote as they have got the job.
They are fantastic.

Erin & Mike – Kenilworth
I found your website when I was just browsing on the internet so didn't have any recommendations but can honestly say we were really impressed that Nick & Scott arranged to come round so quickly & we liked you guys immediately (also might have helped that you are Cov fans!). You were straight up with us, giving an honest price & advice on the bathroom.
We're so happy with our finished bathroom, absolutely love it! Callum & Shane also worked really hard with Nick all week, we were completely confident in you all. You dealt with a massive wasp nest as well as illegal dodgy wiring from the previous owners without any worry to us!!
Thanks again, we can honestly say we'll recommend you on & may be in touch in the future.
Howard & Eileen – Leicester
Thank's loads for the improvements you have made to our home.
The quality, hard work, an eye for detail and going the extra mile to please us. Also your efforts to keep the mess to a minimum and always cleaning up each night before you left.
As you know I', a bit of a perfectionist, but I certainly found my match with you bunch. You came to our house as strangers, I'd like to think you left as friends and we will miss having you around.
Pete & Pauline – Sapcote
Thanks for the superb job you did with our new bathroom. We are highly delighted.
We also really enjoyed your company. It now seems very quiet now you have gone.
Jayne – Stoney Stanton
Creative Design Bathrooms – What can I say? From start to finish, Nick, Scott and Shane were Amazing, efficient, professional, friendly and hardworking; nothing was too much trouble and completed to a very high standard. Each evening before leaving my house was vacuumed and left immaculate.
I cannot recommend the boys highly enough and look forward to them both working in both my garden and refitting my kitchen.
My bathroom is stunning!
Mr & Mrs Nicholls – Nuneaton
Nick, Scott and their team did a superb job installing our new bathroom. With great value, high-quality workmanship and friendly honest advice they certainly ticked all the right boxes. Mindful that it's your home they also keep things clean and tidy at the end of each day. We would highly recommend them to anybody thinking of a new bathroom or kitchen. We are delighted with the transformation of our bathroom and have booked them to do further work for us in the near future.
S Williams – Hinckley
I had the Creative Design team in to refit a whole new bathroom for me, I can honestly say that I am completely delighted with the work they have done and would highly recommend them to everyone. Thanks, guy's a great job.
Mr & Mrs W
Nick and the Creative Design team came to re-fit our family bathroom in Feb 12. We were pleased that the house and the upstairs was treated with respect and spotless when they finished each night (They even hovered up!). We were amazed and so very pleased with the final finished bathroom.
Nick has an eye for detail and we were happy to take his advice as the week progressed. The tiller they use is second to none and we cannot believe the finish would be so fantastic.
We would happily recommend Creative Design so much we have booked for them to replace our en-suite later this year. They are a great bunch of guys.
PS… They like coffee and biscuits!
Mr & Mrs Sahota – Derby
Nick just wanted to say how much we are enjoying our new bathrooms!! The showers are fantastic!! So another big thank you to you and your team.
P.S. We are all missing you guys, it is very quiet when we get home.
Bathrooms Coventry Reviews – Mike and Angela Boxwell, Ryton on Dunsmore
We have used Creative Design Bathrooms on a number of occasions. Over the past few months, they have refitted our two bathrooms and our cloakroom, remodelled one of our bedrooms, fitted new blinds throughout the house and redecorated our lounge.
The Creative Design team live up to their name. They have come up with some great ideas to maximise our living space. They are tidy workers and the results look fantastic. I highly recommend them. We will definitely be using them again.
Mr & Mrs P, Leicestershire
We were absolutely delighted with the work that Nick and Shane carried out. They were so tidy and did a beautiful job. We couldn't recommend them highly enough. Thanks again.
Sandie & Dee Johnson, Stoney Stanton, Leicestershire
Thank you so much for our beautiful new bathroom. When our friends have seen it the reaction has been "WOW".
You have worked very well, with hardly any mess, it has been a joy to have you here.
We would thoroughly recommend you to other people.
Return from bathrooms Coventry Reviews to Creative Design Bathrooms page.
Creative Design Bathrooms
We Will Plan, Design and Install
Your Dream Bathroom